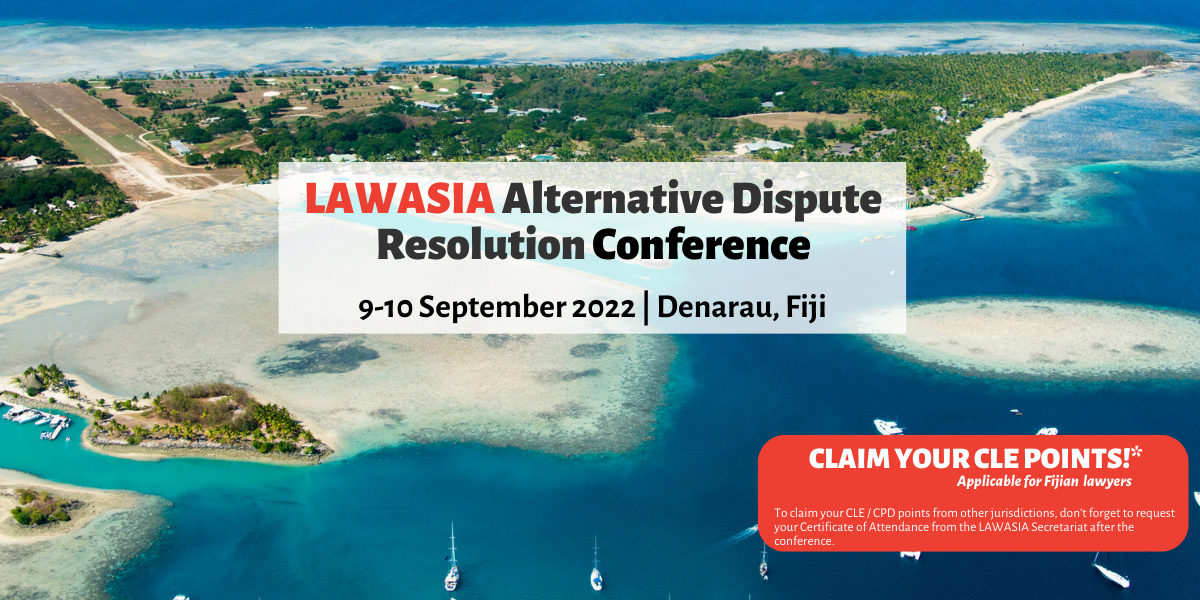 LAWASIA, in association with the South Pacific Lawyers' Association, the Commonwealth Lawyers Association, the International Law section of Law Council of Australia and the Fiji Law Society is very pleased to invite the participation of members and legal professionals at the LAWASIA Alternative Dispute Resolution Conference, to be held in Fiji from Friday 9 to Saturday 10 September 2022.
Alternative dispute resolution, in its various forms, is of increasing significance in the South Pacific. Whilst the process is becoming increasingly common, it is also becoming more challenging, especially as it is applied to new and emerging issues and the challenges faced in response to the COVID-19 pandemic.
At this conference, leading international and local experts will share thematic insights on topics such as International Commercial Arbitration and the Singapore Convention on Mediation, as well as their views on recent ADR developments.
Register for the conference & get a complimentary pass to attend our ADR interactive workshop!
As a conference bonus, registered delegates are entitled to attend, at no additional cost, an interactive workshop at which international experts will provide an overview of essential ADR theory and key issues. This is intended as both an introduction for those with limited experience in the area of ADR, and a refresher for more experienced practitioners, with a view to equipping delegates to obtain maximum benefit from the main program.
*Claim your CLE points! Applicable for Fijian lawyers only:
5 CLE points to the speakers or commentators;
4 CLE points to lawyers who attend the pre-conference workshop; and
1 CLE point for every hour attended or 6 CLE points for lawyers who attend the full conference.
To claim your CLE / CPD points from other jurisdictions, don't forget to request your Certificate of Attendance from the LAWASIA Secretariat after the conference.